Q1: What do Activities look like in X-Info WebConnect?
A1: Activities in X-Info WebConnect provides users with easy access to the common processes or tasks they use X-Info Connect for but through a browser based portal. Activities cover common tasks such as finding a property or work request, adding a communication, updating contact details and assigning jobs to users.
With the use of Activities, we can set up overviews, dashboards, reports as well as design activities for specific users to manage their respective processes and workflow. This makes their daily tasks more simplified by removing the additional steps and information that isn't needed to be seen. Users only see what they need to see to perform their role.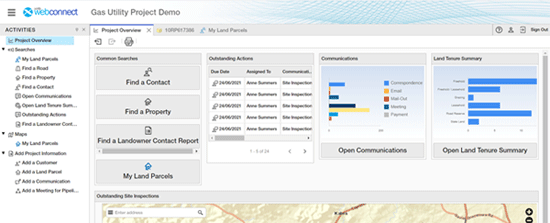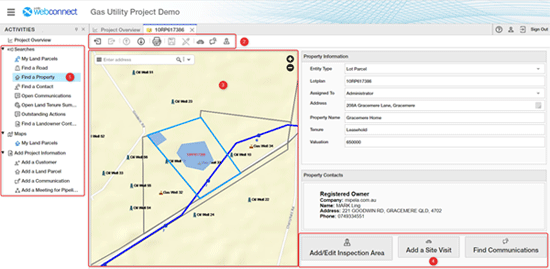 1. Activities can be folderised into logical groups such as Search, Create or Report
2. Navigation tools and contextual activity buttons display along the top of the record
Navigation tools allow you to:

Go back and forth between pages
Go up and down a list
Print the record/page you're currently in
Save changes you've made to the record
Undo any changes you've made

Contextual activities are designed and built in collaboration with you, to best suit your individual business and workflow processes
3. Contextual activities can be included as buttons within the layout to maintain a simple and intuitive user interface.
Q2: Am I able to print from X-Info WebConnect?
A2: Printing is available for Search results, object layouts and overviews. The print button is enabled in the toolbar when printing is available. Some layout elements may not be printable, such as buttons and pop up windows. A print preview or .pdf will be generated in a new tab or can be opened in a .pdf viewer, depending on the browser being used.
Q3: Should I be using a certain browser for X-Info WebConnect?
A3: We recommend using Google Chrome or Microsoft Edge for X-Info WebConnect for optimal performance.
Q4: What if I don't have any Activities set up, or I want to make changes to my existing ones?
A5: Please log a request with Mipela Support to arrange this for you. We can also teach you how to create Activities if you're a power user.
If you would like further information or assistance please contact the Mipela Support Team at support@mipela.com.au.